Faith and Patience!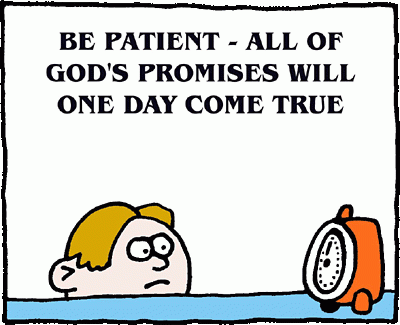 "So, have faith, faith, faith, and mix a little patience!"
Hebrews 6:12 (New International Version (NIV)
12 We do not want you to become lazy, but to imitate those who through faith and patience inherit what has been promised.
This is important:
Keep going! Keep believing that God will fulfill His promises by your faith in Him.  That way you will inherit all God has for you!
God's timing is not our timing!  It takes faith and patience to inherit His promises! Faith means we believe and show the evidence of that belief.
"Faith shows the reality of what we hope for; it is the evidence of things we cannot see. "Hebrews 11:1
Perseverance and patience are very closely related. So is hanging in there waiting for God's timing not our own! When we don't give up and we persevere we are like an athlete in training.  We are growing stronger and more determined to see the goal realized.  Faith in action is exercising our trust muscles!
We know what God's Word says that all the promises are yes and amen in Christ Jesus! Everything God says in His Word is true.  He will always tell us the truth! 
What we do not know is His timing. His timing is perfect.  Sometimes His timing would be sooner but we may be blocking His blessings through our choices.  Ultimately, we need to be led by the Holy Spirit and hear God's Voice. We need to study the scriptures and see all the God has for us.  All His precious promises and believe and receive His blessings.
What promises of God are you waiting for? Do you believe God will do what He has promised?  This is the key issue; hearing God's promises and believing what He says will come to pass at the right time!  Share this encouragement from God's word to your family and friends and leave a comment!  Blessings, Cheryl
 SING A LONG :)